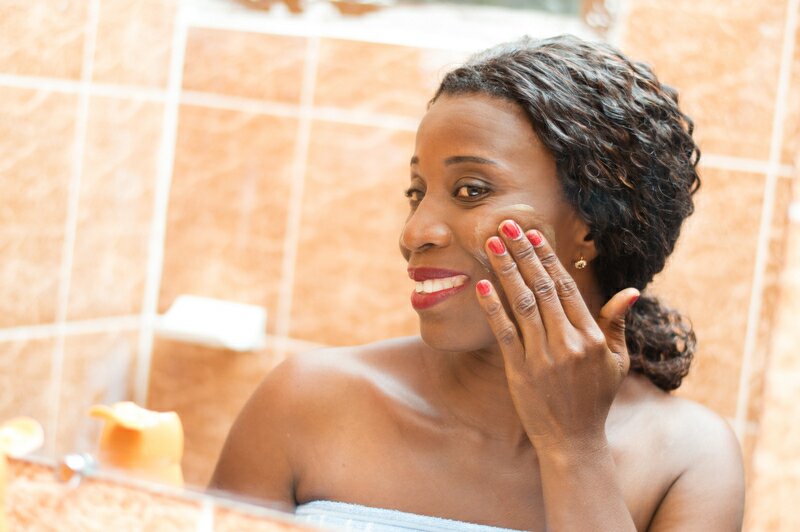 Ever wondered why some people have such glossy, smooth, acne-free skin? Well, it is because they make honey a priority in their skincare regime. Honey has antibacterial agents, and is good for acne treatment and prevention. Asides being an acne treatment, it is good for slowing down the skin's ageing process, and boosts complexion, which in turn gives a glow.
Honey is extracted from honey combs, which are called raw honey. The bees collect the nectar from the flowers and store it in their honey comb; here, the honey ferments to give us the raw honey that we find in the market, which is rich in vitamins, minerals, and certain enzymes.
Honey has been known to be great for balancing bacteria on the skin, thereby treating unwanted dirt, oil and other things that can cause acne. Manuka honey is the best honey for this job, as it speeds up your skin-healing process, shedding dead skin and bringing about a spot-free, clean, glowy, renewed and beautiful skin.
Unlike some chemical-infused products, honey is natural, safe, yet so powerful. Yes, you heard that. Powerful! Honey is produced by enzyme activity, plant matter, and live bacteria coming together to create a powerful ingredient with lots of practical uses. Honey is produced uniquely, thereby making it effective for acne, healing scars, and evening out skin tone. It is raw and un-pasteurized, making it safe to use on face and body.
A friend of mine once had severe acne, and was like what do I use, Oh, what do I use? She had a sensitive skin, and had been battling acne for years. I told her to try honey and nothing else. She did, and saw results in weeks. She came into a presentation months after with a sway, confident, and her skin shinning bright like the sun. No other person understood but me. We giggled about the whole experience later. She has since then stuck to honey. Her holy grail, she claims.
Natural honey is inexpensive and open to all class of people. Beauty therapists and skincare brands now add honey to their products, especially to acne related products. Honey on its own can be used as a mask, i.e., left on the face for few minutes, allowed to dry and washed off. Some people prefer to mix honey with other natural substances for better results, for example, honey and cinnamon have become a powerful combination for the treatment of acne.
Research has it that honey was Cleopatra's preferred weapon in her beauty arsenal, and now science is catching up to what women have known for years. Raw and unpasteurized honey is one of the best all natural ingredient for glowing and healthy skin. It is a deep exfoliant, yet so gentle on the skin. It works hard on acne, pimples, and cleans the pores, making you stand out. If you are looking for an anti-aging agent that is safe for your skin, look no further and grab a bottle of honey.
Honey infused skin care products include:
Honey facial cleansers
Honey is now being added to facial cleansers with other ingredients to unclog pores while cleaning it. The use of honey is being undermined by some people because it doesn't have harsh and chemical infused ingredient. The good news is that honey cleansers work slower than the conventional chemical infused ones, removing dead skin, dirt and oil that cause pimples and acne. You glow naturally while at it.
Honey infused face and body scrubs
Body scrubs naturally have the power to deeply remove dead skin, and when combined with honey can make a fantastic remedy for acne. The sugar or salt granules can be mixed with lemon and oils like coconut and almond, depending on client's preference.
Honey infused skin lotion
Skin lotion is an essential skincare ritual that nourishes the skin, so when mixed with honey can fade away scars either on the face or body. Honey infused lotion is top notch when it comes to redefining the skin and keeping it clean and clear from spots and acne scars.
Honey and acne
Raw honey helps balance the bacteria on the skin, which makes it a great product to use for acne. Manuka honey has been studied to be an anti-acne product, and found to be more effective than other popular products. Honey helps the body's healing process, which may help fade scars and acne. A good skincare routine is not just for women, even though women are more conscious of their skin. Men break out too, hence why they are advised to take good care of their skin.
How else would you treat acne other than with an antiseptic agent that prevents growth of organisms that cause diseases like bacteria? Hydrogen peroxide is produced by honey in small quantities, which disinfects the skin. The sugar content in honey makes it difficult for bacteria to multiply. Honey has inflammatory properties that treat redness and swelling. What other thing is an effective acne treatment, yet is very gentle and makes you look younger?
Most over the counter and chemical-infused products tend to dry out the skin, leaving it wrinkled, and in turn causing premature ageing. But honey helps keep you years younger, while fighting the acne, scars and redness from your skin. For better effectiveness of honey in improving acne prone skin, it can be eaten, too.
Honey can be combined with other natural ingredients to boost treatment of acne, ingredients like tee tree oil, cinnamon, tomato, activated charcoal, turmeric, lemon, etc., according to your preference. Honey can also be used on its own, and gives wonderful effect.
Honey is very good in detoxifying the body. Treating acne is not just topical, and what you eat is also important. So it is important to detox the body using things like lemon, honey and lots of water. Honey in particular is powerful, yet so gentle, and many people do not really know the strength it possesses. It cleans the blood, boosts metabolism, and rejuvenates the immune system. Some people are impatient when treating acne. The best thing you can do for yourself, especially when treating acne with natural ingredients like honey, is to be patient. It can take weeks or months to clear off totally. Consistency is also key in achieving beautiful and flawless skin. Sticking to a particular skincare regime is the best, and you are on your way to having an acne-free face. A trial will convince you.
The post Ngozi Ojeogwu: Honey – the Most Sought After Acne Antidote appeared first on BellaNaija – Showcasing Africa to the world. Read today!.